Last week's premiere of
YG on Air
featured
Bom's
live performances of
'You and I'
and an acoustic version of her newest single
'Don't Cry'
. Blackjacks were also treated to CL's quick preview of their upcoming single
'Lonely'
as well as the return of our girls' dorkiness.
YG on Air
, became instantly successful, not only was it viewed by a lot of Korean fans, but overseas fans were also able to enjoy the show through
YG's
promised English subtitles. In fact, so many people attempted to watch the show that Naver suffered a severe strain to their servers even causing me2day to crash. Even the constant slowdowns couldn't damper the mood as many people praised the show and its unique format.
YGLife
made a lot of fans excited, teasing the upcoming show, fans wondered what was in store for Episode 2. Luckily, right on time, at 6:05PM KST, we were treated with the second installment of
YG On Air
. Check it out below:
credit: 2NE1 @youtube
-----------------
Take a Closer Look: the Meeting
The show starts off with the infamous
Black Eyed Peas
leader
will.i.am
, who is currently producing for
2NE1's
upcoming US album, paying a visit to the girls.
Even though the girls are very shy, giving out that awkward aura,
Will.I.Am's
enthusiasm was shown throughout his visit. His adoration for the girls'
'Can't Nobody'
performance on last MAMA and the tapping of his feet during
Park Bom's
'Don't Cry'
MV shows how much he monitors and anticipates the quartet. After a little tour in the YGE building,
Will.I.Am
bid farewell to the girls while he jokingly kicked
Dara's
feet because of their coincidental same shoes.
Take a Closer Look: the Music
After Will left,
Minzy
, the resident BEP stan, gushed "
I'm a fan, a fan! He said he'll let us hear a lot of good songs, songs that make you want to dance. In the future, when the songs come out, I want to dance while listening
."
CL
also discussed Will's visit, "
he originally came for some work in Korea, but since we were here too, he came to see us, and Teddy-oppa, and he let us hear a lot of music. Tomorrow he'd be working on music as well
." Finally,
Dara
adds, "
I don't know when we'll be able to show you but right now good songs keep coming out, so sooner or later, we'll be able to let you hear it right?
"
No matter how long it takes, we Blackjacks will wait patiently for the US album, right?
Take a Closer Look: the Music Video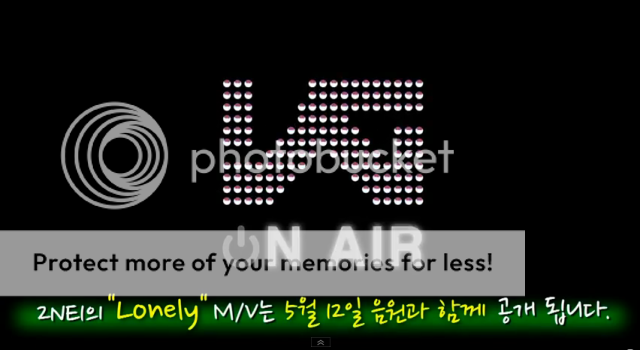 After a segment on Bigbang's Japanese tour preparations, the much anticipated
'LONELY'
MV's BTS were revealed. From the outfits, to the song, to the sets everything looks poised for another fantastic 2NE1 MV.
During the shoot,
Minzy
, ever the dutiful maknae, notes that she was "
a bit late
" for the first day of MV filming.
Dara
revealed that this music video is very unique compared to their past MVs. This time, they won't have a scene with all of them together, rather its a shoot where all members would act as a single person. She concludes that, "
it seems like a really different new video will come out
."
In contrast to Dara's excitement,
Minzy
is somewhat unsure of the MV concept, "
it's a bit awkward, the scene of the set is a bit weird. Coming out after so long, it feels weird
." Her apprehension doesn't keep her from showing us some of the cool new choreography. We also didn't miss Dara's tease of some of the new "hand movements" either. Leave it to 8D
Bom
to end on a cute note, "
today, how do you find our new hair styles?
"
Given the wonderful level of their previous videos, we can only imagine how awesome
Lonely
will be. May 12th can't get here fast enough.
Dara
also reminds everyone to anticipate the upcoming episodes of YG on Air each week, "
we'll supply you with many interesting and funny videos so please watch a lot!
"
Take a Closer Look: the Fashion
No article about a
2NE1
MV would be complete without talking about their clothes. Even before the
Lonely
MV scenes, everyone should have noticed the bonding moment between
Dara
and
Will
as these two style icons literally became
sole mates
.
Thanks to zeelicious @ygladies for the cap
Both the men and the women of YG Family have recently showcased a love affair with
Christian Louboutin
shoes. It seems
Will
is also a fan. He and
Dara
share a cute moment playing footsies as they show off their matching sneakers.
The LOUIS MEN'S FLAT SPIKES in light metallic bronze color is the newest addition to
Louboutin's
growing line of flats. Despite the
$995
pricetag the shoes seem to be sold out EVERYWHERE. These are such a hot commodity that they are being sold for HIGHER than their original sale price on auction sites such as Ebay. Luckily
Will
and
Dara
got their pairs early.
Thankfully, we were also given a glimpse of 2NE1's lovely outfits for the Lonely music video. Aside from
Balmain's collection
, the stylist added a few more lovely brands to emphasize the girls individual style. Most notably, the girls are wearing
Burberry Prorsum
,
Mary Katrantzou
,
Balenciaga
, and
Christopher Kane
.
We know how diverse the leader is with her style choices, this time
CL
opts for the rocker-chic look, reminiscent of the girls' Japan promotions photo.
In the indoor scene,
CL
is seen wearing a black top and a Balmain red leather jacket embellished with safety pins.
As for the outdoor scene,
CL
is again in
Balmain Spring/Summer 2011 Collection
-- a cutout cotton tee embellished with safety pins, studded leather vest, and a scarf used as a headband.
No matter what length her hair is, the stylist still manage to put some uniqueness in Dara's hairtyles. From straight to curly she pulls off both looks with aplomb;
Dara
truly is a hair chameleon.
The fresh vocals outfit in the indoor scenes are also worthy of mention.
Dara
was seen in
Balenciaga Spring/Summer 2011 collection
-- a hand-printed curve shirt with collar tips and a red quilted shoulder leather gilet (in black/blue above). Balenciaga's Spring-Summer 2011 Collection has been described as "
a clashing of masculine and feminine, real and faux, old and new. Balenciaga designer Nicolas Ghesquiere is giving us a new kind of sensuality.
" how fitting then that 2NE1 would be wearing their outfits.
While in the outdoor scene,
Dara
is seen wearing a lime green studded top from
Christopher Kane's Spring/Summer 2011
Ready-to-wear collection and a rubber-look black jacket from Burberry Prorsum's Spring/Summer Collection. It's nice to see the girls going back to their more fun, less tailored looks for the new promotions.
Of course no video would be complete without a SPECTACULAR dress worn by
Bom
. Last time we saw the main vocal, she was sporting a gorgeous dress from Alexander McQueen's last collection in her
Dont Cry MV
.
This time around she's still in a dress, but now it's from
Mary Katranzou's Spring/Summer collection
.
This stunning Mary Katrantzou creation is a wonderful digital print dress that compliments
Bom's
personality.
Mary Katranzou
is from Athens, Greece, but studied design in the United States. She has previously worked for Sophia Kokosalaki and freelanced for Bill Blass, amongst other designers. For her Spring/Summer 2011 collection, she made waves with her creative lampshade skirt.
Bom's
"Gateway printed silk and cotton-blend dress" can be yours for the low-low price of
$2,020
at couture retailer
http://www.net-a-porter.com
...or you can wait for a more affordable version to be made available at
Topshop
.
In the outdoor scene, though there were only glimpses of Bommie, it looks like she was wearing the white on black version of Balenciaga's leather houndstooth print skirt. This modern take on a classic patter has been a hot topic all over the globe.
Lastly, the triple threat of 2NE1, the wonderful maknae --
Minzy
seems to be really blooming nowadays. In the indoor scene Minji was seen wearing a bird print tee from
Christopher Kane's Spring/Summer 2011
collection and a lovely silver jacket from
Burberry Prorsum's Spring/Summer Collection
. Christopher Kane is a Scottish fashion designer based in London who is known for merging music and fashion as he has collaborated on styling for a number of well-known rockstars.
What a fitting designer chosen to clothe our girls, isn't it
?
At just under
$400.00
, Minzy's shirt is a steal, unfortunately whatever savings you gain from the relatively low-priced tank is lost on the Burberry jacket which is whopping
$3,950.00
, if you can even find it. Our girls just love expensive clothes... In the outdoor scene, we caught her in what looks like another Balmain creation -- a great looking biker jacket. We are looking forward to the full mv to see if our suspicious about
Minzy's
outdoor look are correct.
With these teasers, the anticipation continues to mount. We can hardly wait for the full version of this MV and to hear the entire song.
Source: 2NE1 Youtube,
London Fashions
,
Louboutin USA
,
Olyafirst Fashion Blog
,
http://www.polyvore.com
, and eiffelinseoul@twitter
Translated by
GEE
@ygladies.com
Caps and collages by
WILLA★
,
zeelicious
, and
Prisha
@ygladies.com
Article by
viscount
,
tazanya
,
WILLA★
,
hellocatty
and
Gee
@ygladies.com