SMTOWN LIVE WORLD TOUR, which has mesmerised and captured fans from Seoul to LA, Tokyo to Paris, finally touched down in New York on October 23th, setting new records at the same time.

The concert kicked off at 7:30PM (local time) at New York's Madison Square Garden, and saw Kangta, BoA, TVXQ, Super Junior, SNSD, SHINee, f(x) and others take to the stage in an extravagant and diverse show, sending the fifteen thousand fans present wild.

While each team performed their individual hit songs, they also stood together for group performances. Girls' Generation also revealed the English version of their new song "The Boys" for the first time. All in all the concert lasted three and a half hours, with a total of 51 songs in the set list.

This concert also held significance in the fact that New York's Madison Square Garden is a sort of mecca for singers worldwide; what's more, this is the first time a concert by an Asian group has been held at that venue since the renovation, making it a historical moment.

With such huge import, the number of media bodies present comes as no surprise -- from New York publications like New York Times, New York Daily, Village Voice, COMCAST, New York 1 and MTV, to foreign news media like Japan's Sankei Sports and Nikkan Sports, and China's Ming Pao Daily News and Xingse Media -- even the competition between the respective reporters was heated.

Furthermore, statistics showed that approximately 70% of the audience members were non-Asians, proving once again the popularity of SMTOWN. Nationality notwithstanding the audience members were able to sing along with the Korean songs.

Meanwhile, images from the concert can be viewed through various mediums: SMTOWN's Facebook page, Youtube channel and Kakaotalk.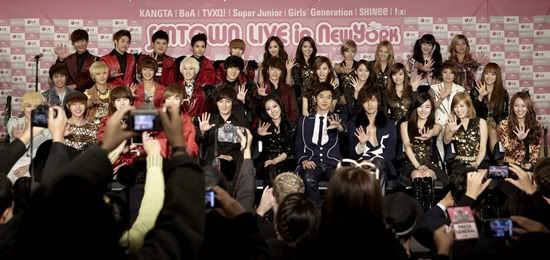 Source:
Newsen