"Handsome and fashionable?"
Lately, an idol's every move seems to be garnering an increasing amount of attention from fans. The actions of K-pop stars offstage, as well as their usual appearances on stage, have become the center of attention for many netizens.
The most discussed subject matter is, of course, idols' fashion choices. Hoping to stay on top of the current and upcoming fashion trends, fans look to see how their favorite idols dress when their stylist isn't around. Many idol groups have the ability to wear casual, everyday clothing like a t-shirt and jeans while still appearing fashionable and well-groomed. Whether they wear designer or no-name brands, these celebrities always know how to look great.
There are a number of male idols who have become favorites for fashion-lovers. Even without a stylist, these men know how to look good in the clothes they purchase. Keep reading to find out Korea's most fashionable male idols!
"The Perfect Onscreen Boyfriend": JYJ's Park Yoochun
With intense eyes and a small face, smooth skin and broad shoulders, Yoochun can only be described by unrealistic terms for his attractive appearance, known for causing the pulses of women to quicken. The star is known for being able to wear whatever he desires—cardigans, UGG boots, and other clothing men typically avoid—while still appearing stylish and manly. Even in the recently published photos from the MBC drama "Ripley," Yoochun showed off his perfectly straight shoulders while sporting a suit. This led to numerous praises from female fans like, "What unrealistic perfection," and "He is the perfect onscreen boyfriend."
"The Picture Perfect Man": JYJ's Kim Jaejoong
Jaejoong's fashion sense rivals that of his fellow group member, Yoochun. Regardless of what he wears, the singer always looks like he just came from a photoshoot. His clothing often draws the attention of fans, especially his smiley-face printed hoodie, deep V-neck T-shirts, jumpers and other unique items. In a photo recently taken during rehearsals for their world tour, Jaejoong was shown wearing a "Hello Kitty" tracksuit. This attracted the interest of many netizens, who wrote comments such as "How fashionable!" and "Your fashion sense is even chic during rehearsals."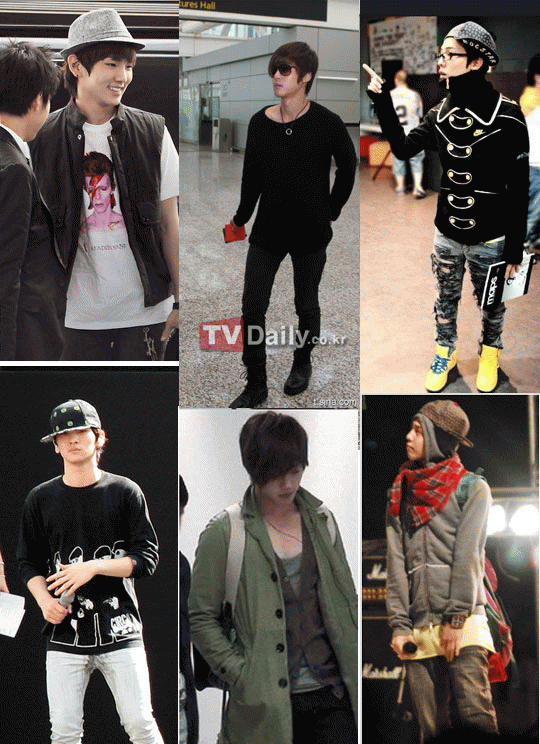 ★

"The Unique Trendsetter" – Big Bang's G-Dragon
G-Dragon has always been praised for his unique fashion sense. Men from their early teenage years to even late twenties have confessed their desire to be like this star. Many clothing brands have expressed interest in hiring G-Dragon as their model, including Bean Pole and G-Market. Known for being a trendsetter, he has often been admired for dressing in a style of his own rather than following the crowd.
"The Walking Piece of Art" – SS501's Kim Hyunjoong
Kim Hyunjoong is known for appearing radiant while wearing natural, casual clothing. His style consists of t-shirts with skinny jeans, black sunglasses, and a matching backpack, showing a preference for comfort over chic. Even though he appears nonchalant in his pictures, his overall good-looking, fashionable appearance has caused netizens to comment, "What photoshoot are you supposed to be at?" and "He's a walking piece of art!"
"The Future Fashion Designer" – SHINee's Key
The sensitivity of Key to what is currently fashionable has caused him to become one of the leading idols in styles and trends. His style is cute, but also chic, and manly enough to capture attention of both males and females. It would not be an overstatement to claim that his sense of color matching is one of the best in the idol world. Even at first glance, the color schemes that Key chooses in his outfits are refreshing to the eye. There are high expectations for the idol as a fashion designer, as well as in music.
Source:
TVDaily
+
Lucy @ Koreaboo